Zwykły wpis

3 grudnia 2022
we have pleasure offer you ongoing delivery program:
MG WS BLEACHED KRAFT PAPER REELS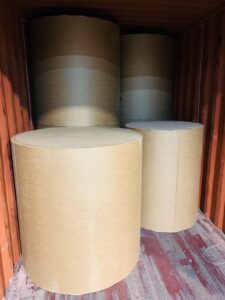 remark:
this is is an virgin uncoated paper used in a variety of packaging applications. With proven runnability through converting equipment, a blue-white shade to enhance the appearance of the finished package and for food contact. 
Excellent glueability with aqueous and hot-melt adhesives
Offers stability and stiffness when laminated to other substrates
for direct and indirect food contact
Applications
Laminated food pouches
Food service bags
Concession bags
Consumer bags
QSR pouches
Sandwich wraps
Liners
Deli wraps
Food packaging
Exam room papers
Pharmaceutical bags
SIZE RANGE: 60-160cm
GSM RANGE : 50-120 (sale as is only)
QUANTITY : 200 Mt
ORIGIN : Canada
packing list: after loading
pick & choose : no
samples: no
TDS : no
pictures : after loading
dispatch port : Montreal (CA)
MOQ : 50mt
Fill up below form and send us to get back price quotation:

SALE RESTRICTIONS:
Offer for export out of USA & Canada only
sale or delivery for Russian & Belarusian companies ( with Russian or Belarusian capital as well ) is not permitted
offer subject to prior sale – don't lose opportunity to make business
Don't hesitate contact us if you are interested – we are for you – your satisfaction is our priority!
Good luck & Best Regards
Sales Team GTP Group Ltd
www.stocklot-paper.com